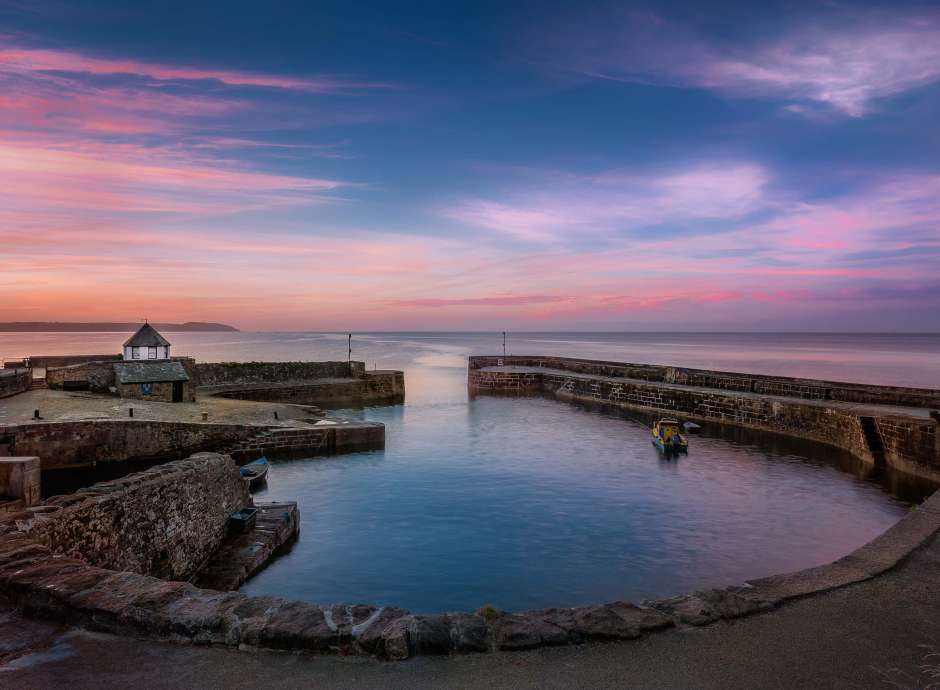 Acquaint Yourself 

With Charlestown

A journey into Charlestown is like stepping back in time and is the perfect addition to your time spent in Cornwall. It is the only 18th-century Georgian harbour to remain open in the UK and has had little modernisation throughout the years, setting a dramatic stage against the seascape that surrounds it.

Should you wish to add Charlestown to your bucket list, you can enjoy a picturesque 25-minute walk along the scenic South West Coast Path on route from the hotel expanding your experience of our quaint coastal charm. Should you seek an alternative route, you can reach your destination by car or taxi with a five-minute journey. 

We've put together a list of 7 things to do in Charlestown to help you get the most out of your visit. 
Scroll
1. Try out a variety of cocktails, rum or Cornish Moonshine at one of the many bars and restaurants
The Boathouse offers a great selection of cocktails, with rustic outdoor seating overlooking the harbour. Rebellion, with its stylised interior featuring a boat rooted into the ceiling, is the home of Cornish Moonshine. If a pirate's life takes your fancy Rum Sailor, offers over 100 different bottles of rum to try out whilst you relax in colourful deck chairs overlooking the water.
2. Discover local artisans
Charlestown Gallery is situated in the heart of Charlestown and features a diverse range of artisanal work by local artists. From homeware to glass and ceramics, to paintings and prints, you will be sure to find a piece of Cornwall to bring home with you.
3. Explore local history
The Shipwreck Treasure Museum delves into the stories that make this historic port what it is today, along with over 8,000 finds from over 150 shipwrecks. You'll find out about the ambition and the peril faced by those who braved the waters and how this port has been favoured by over 100 Hollywood directors, including Dr Who, Alice in Wonderland and Poldark.
4. Sail across the coast
Set sail along the coast aboard 1904 channel pilot cutter 'Mascotte', or 'Anny' a 1930 topsail schooner, with Sailing at Charlestown Harbour.  Three or six-hour sailing trips are offered, including refreshments, with the six-hour trip providing an onboard lunch. You will often see these large vessels moored inside the harbour as you wander around the historic port.
5. Stroll along the beach
Charlestown has its own small beaches, covered in pebbles and occasionally sea glass. The larger of the two has caves and rock pools that are a wonder to explore, but both have an uninterrupted view of the ocean and Cornish coastline.
6. Freshly caught fish and chips.
Seafood is a speciality in Charlestown, with many restaurants offering freshly caught dishes to tantalise taste buds. If you'd like to try Cornish mussels, visit The Longstore – they have options for takeaway, harbourside dining or seating inside their top floor, airy restaurant. A harbourside favourite, popular with locals, is the Charlestown Fish Co, serving a variety of exciting seaside dishes (including traditional fish and chips) in the sunshine.
7. Walk around the harbour
Charlestown Harbour is a UNESCO world heritage site; there is so much to take in as you walk around. From locals fishing off the edge of the harbour, to the historic presence of the ships that moor there, when set against the dramatic cliffscape and sea views, you'll be in awe at the detail that surrounds you. Will you recognise any famous film locations?
8. Explore filming locations
Over the past 40 years, Charlestown has become one of the most popular filming locations in Cornwall and it's easy to see why it proves so popular. With its resident ships, working harbour and grade II listed granite quays, it serves as the perfect filming location for period and costume dramas, war sagas and love stories. Walk along the harbour and recognise the backdrops around you, from Poldark, Dr Who and Taboo to Rebecca.